Though folk horror is often associated to Britain, in looking through the vast number of films, TV series, books and other media that dabble in these ways, it soon becomes very apparent that it is a global phenomenon and not a new one at that. The forerunner of horror story books and films are the folk and fairy tales told as entertainments on those cold evenings around fires. And not just as an entertainment but at times a warning of dangers; traditional precursors of the Public Information Films that stuck in the minds of the kids who managed to survive the perils of being electrocuted in pylon-frisbee combinations or locked away for an eternity inside a fly-tipped fridge. But the traditional tales and the folk horror they later spawned had cultural and geographic nuances that defined their style and identity. Sometimes the land itself tells the story.  

In the Folk Horror Chain, an analysis of the elements that constitute folk horror devised by the author and academic Adam Scovell, he mentions two links of the chain that are pertinent to this essay. They are Landscape and Isolation. In consideration of Landscape, the most common environment to be found in many examples of folk horror is rural or at least semi-rural. There are however stories that feature elements of folk horror in more built up areas (which may fall under the mode of Urban Wyrd, which is not simply folk horror in an urban setting but the nuances of which are beyond this article) however here shall concentrate on the more traditional or rural settings. In considering Isolation we have to remember that whilst it may in some instances relate to being out in the wilderness alone, it could also relate to being culturally or socially isolated for instance being a stranger among strange folk.

Where better to start in looking at these factors than in Robin Hardy's 1973 classic folk horror movie The Wicker Man? The harbingers of The Wicker Man that are the 1967 novel Ritual by David Pinner and the 1970 BBC Play For Today episode Robin Redbreast (directed by James McTaggart) both also followed the plight of a person away from their original home and now amongst folk with different ways to their own. Ritual followed a police officer, (not entirely unlike Sergeant Neil Howie the protagonist of The Wicker Man played by Edward Woodward) investigating a missing child case in a rural Cornish village whilst Robin Redbreast follows the situation of a woman (played by Anna Cropper), who in taking a break from London, rents a country cottage in a location that is not specifically identified but from the accents of the locals appears to also be in the southwest of England. In deciding that Ritual was too problematic to film and thus deciding to write a screenplay with a similar central theme, Robin Hardy and script-writer Anthony Schaffer decided to make the location of their tale more remote still than in Ritual and Robin Redbreast (it is not known if either Hardy or Schaffer had seen Robin Redbreast). Setting The Wicker Man on an island off the Scottish coast, they made Sergeant Howie's eventual plight more difficult – he could not run away, back-up from other police could not rush instantly to his aid. The fictional isle of Summerisle is an oddity in itself, due to geographical conditions it is place known for its amazing fruit production, not something the Scottish islands of the north are usually widely acclaimed for. But Summerisle is not a wilderness, its inhabitants are not prehistoric troglodytes hiding in caves; it does have an archaic system of having a local Lord who is also the people's leader, but it also has a post office, shops and a thriving business in the form of the export of its fruit, particularly apples. However, it is when the harvest fails and their livelihood is threatened that things begin to occur. The ways on the island are old ways resurrected (details of which were inspired by historically questionable but conceptually intriguing books such as The Golden Bough: A Study in Comparative Religion by Sir James George Frazer). Sergeant Howie finds himself isolated not only by being cut off from the mainland by a channel of seawater but alone among people whose beliefs are so alien to his own that he struggles to barely comprehend them. The local people's association to the land, particularly the fertility of the land, shapes their entire lives and in ensuring the fecundity of the crops they will, with a disturbing glee, take any actions they deem necessary.

In other examples of British folk horror films of the era, time plays a part. Witchfinder General (1968), Cry of the Banshee (1970) and The Blood on Satan's Claw (1971) for instance are all set in centuries past in times where superstition, suspicion and fear spread across the country and continent like a virus. This was a time when it was feared that Satan was especially active in corrupting folk into worshipping him and employing malevolent actions against their neighbours or even against the crown or state. This was the time of Witch-hunting. Films of this kind were not hellbent on historical accuracy it must be said, and would not let facts get in the way of a good horror story. This is particularly noticeable in the movie Witchfinder General (directed by Michael Reeves). The historical time-period has been played with, as has the age, character and fate of Matthew Hopkins the titular Witchfinder General (played by Vincent Price). It does however illustrate the cruelty and injustice of the witch hunts that cut a swathe through the valleys, villages and burgeoning cities of Britain and beyond, and like The Wicker Man makes for an effective horror that has no actual supernatural happening in it. Cry of the Banshee and The Blood on Satan's Claw however do unearth the demons from the forests, from the furrows and fields of olde England. The notion of superstition in small communities was returned to by Nigel Kneale with his 1975 TV play Against the Crowd: Murrain whereby the residents of a Yorkshire village fear that an elderly woman living in their midst is a witch intent on causing them and their animals harm. The premise of madness and maleficence within a meadow was beautifully returned to by Ben Wheatley in his strange 2013 film, A Field in England. Set during the 17th Century English Civil War, the film takes place within a single meadow, where the protagonists appear to be trapped. What transpires in the film is a medley of alchemy, intrigue and psychogenic mushroom hallucinations but in its poetic weaving it does reveal why folk horror is often associated to the British landscape as there are centuries of history and spilled blood within the soil of these small isles. However, the phenomenon of folk horror is not confined to these lands.

Crossing the ocean to the Americas, Europeans took their old fears to their new lives. The 1996 film The Crucible (directed by Nicholas Hytner and based upon the 1953 play by Arthur Miller) is based upon the real-life Salem Witch Trials of the 1690s whereby nineteen people lost their lives through the accusation that they were practising witchcraft. These events inspired a number of other movies including Crowhaven Farm (1970) and The Lords of Salem (2012). The 1973 Thomas Tryon novel Harvest Home and the television adaptation The Dark Secret of Harvest Home (1978) follows a similar path between the plough-lines as The Wicker Man in depicting surviving old rites of sacrificial libation to the land. Children of the Corn (directed by Fritz Kiersch and based upon the Stephen King story of 1977) also tells of an archaic religion whereby an agricultural god named He Who Walks Behind The Rows must be appeased with blood sacrifice.

But the land itself is of gigantic proportions compared to Britain and the matter of geographic isolation increases in scope significantly. This is evident in the non-fictional but beautifully presented 1999 documentary Wisconsin Death Trip (directed by James Marsh) and the 1973 book it is based on by Michael Lesy which contains great old photography by Charles Van Schaick. Within its pages and on the screen are told tale after tale of madness, murder and misfortune mostly befalling European settlers struggling to cope with their new lives in the vast expanse of America. The theme of adaption to a hard, unforgiving land is displayed also in Robert Eggers' 2015 folk horror masterpiece The VVitch. The film is inspired by both the lives and toils of the Plymouth Pilgrim Colony and accounts of witchcraft practice and history as described in accounts of period books and pamphlets inspired by tomes such as Kramer and Sprenger's Malleus Maleficarum – Hammer of the Witches (1487). Again, in The VVitch we see the desperation caused by the failing of crops.

But before the settlers colonised America the land was already old and walked upon. Indigenous American mythology like all world tales contains darker stories and entities. Though there have been numerous attempts to bring the stranger creatures of tribal mythology to screen such beings as skinwalkers, wendigos and the manitou, at times they have been not the most understanding or respectful of their source material. There is also the now stereotypical trope of 'Indian burial grounds', though that premise was used effectively in Stephen King's 1983 book Pet Sematary and originally adapted for film in 1989 by Mary Lambert. This tale of resurrection beyond death contains the very folk horror line," The ground is sour." A lesser known film is 1983's Eyes of Fire directed by Avery Crounse in which a scandalised preacher and his acolytes are forced out of their settlement and take shelter in a forest haunted by the spirits of long-deceased Indigenous Americans. There has been a growing wave of Native American film directors producing works in the horror genre, mostly so far it has been psychological horror that has been produced but it would be intriguing to see some of them bring their old tales of fear to the screen.
Although folk horror 'purists' may state that folk horror has to have a pagan or folkloric element, there isn't actually a folk horror manifesto, (the term was originally utilised in reference to films by Piers Haggard when talking about The Blood on Satan's Claw stated that his intention was to make a 'folk horror film'), so it is mostly a matter of opinion. The Folk Horror Revival multimedia project prefers to take aesthetic, atmosphere and the elements of Scovell's Folk Horror Chain into account as much as individual subject matter. Folk Horror Revival considers the subgenre of backwoods horror to often graze in a nearby field to folk horror. Bearing this in mind, the factors of landscape and isolation certainly play an important part in several American backwoods or 'hillbilly' horror movies. John Boorman's 1972 film Deliverance follows the adventures of four friends who head out from Atlanta to a remote Georgia wilderness on a canoeing expedition. Their holiday turns sour as they encounter a pair of violent mountain dwellers. Equally notorious and often undeservedly maligned is Tobe Hooper's The Texas Chainsaw Massacre (1974) which is not as gory as some people seem to remember but is just as disturbing. A group of teenagers set out on a road trip to visit the rural Texan farm of the deceased grandfather of a pair of them. Picking up a weird hitchhiker on the way was not the strangest or worst thing to befall them on their trip, it was merely the start. Falling into the clutches of a demented cannibalistic family a grim battle for survival begins. 1981's Southern Comfort (directed by Walter Hill) follows a squad of nine National Guard soldiers on a routine training exercise in a Louisiana bayou. The atmospheric deep southern swamp provides a setting that in its landscape is itself another major character in the film. Stirring the wrath of local Cajun hunter-trappers, the soldiers find themselves out of their depth as one by one they are hunted down. Southern Comfort also belongs to the southern gothic subgenre, another form of art and fiction that relies heavily on place and the cultural character of the location.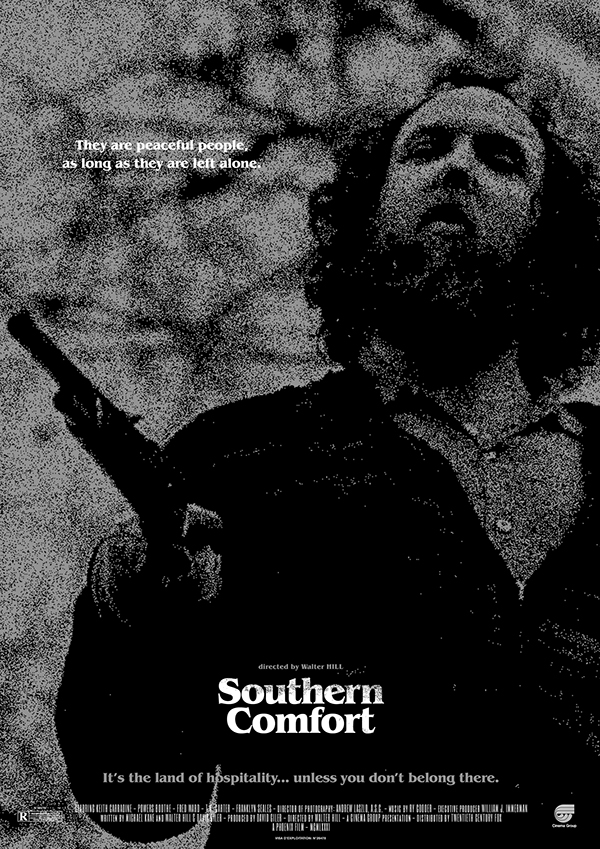 The culture of Louisiana is distinct in having both French Creole and Afro-Caribbean influence as well as American. It is this combination that provides the backdrop of the development of Louisiana Voodoo as a folk religion and the source of inspiration for Alan Parker's great 1987 movie, Angel Heart. Angel Heart is a southern gothic / neo-noir fusion that also bears relevance to the folk horror subgenre due to its folk religion as well as Satanic themes and the cultural isolation New York detective Harry Angel (played by Mickey Rourke) feels among unfamiliar people with unfamiliar ways in the New Orleans landscape.
Some other films are noteworthy bedfellows on the premises of landscape and / or especially isolation. Don Siegel's The Beguiled (1971) is a deliciously twisted movie based upon Thomas P. Cullinan's 1966 novel A Painted Devil (a name later changed also to The Beguiled). Set during the American Civil War in 1863 the film portrays the fate of an injured Union soldier, John McBurney (played by Clint Eastwood) who finds himself and his wounds tended within the confines of a seminary for young ladies. Bruce Beresford's 1991 movie Black Robe accompanies a Jesuit missionary team on a gruelling trek across Canada as they bid to convert the First Nations people to Christianity. Both the vast landscape and encounters with local people who bear animosity leads to a film that is at times brutal, at others beautiful.
Veneno Para Las Hadas (Poison for the Fairies) directed by Carlos Enrique Taboada is a 1982 Mexican film with a rather different theme and aesthetic. Concentrating upon the relationship between two young girls living in a rural area as one embroils the other in the notion of witchcraft; Poison For The Fairies is a quite different inclusion iin the canon of North and Central American folk horror
The culture and landscape of Central and South America are rich in folklore and history. Mel Gibson's 2006 movie Apocalypto follows the plight of a Mesoamerican tribe, particularly a young man, Jaguar Paw (played by Rudy Youngblood), as their lives are threatened by an invading force seeking human sacrifice, in a bid to ensure their own culture's survival. The film has been controversial regarding the accuracy of the portrayal of the cultures of the period with different scholars and critics divided on their opinions. Another film worthy of mentioning, that casts its protagonists into a hostile landscape far from home, is German director Werner Herzog's 1972 Aguirre, The Wrath of God. Following the expedition of 16th century Conquistadores searching for the fabled city of gold El Dorado, Aguirre sees madness and death unfold. Though not a horror, Herzog's 1982 film Fitzcarraldo is again set in Amazonia, and its feel and dreamlike quality in telling the tale of a steamship being dragged over a hill in Peru may appeal to fans of the folk horror aesthetic.
Casting our boats into the vast Pacific, there aren't many horror films that concern themselves with the Oceanic islands until we get to New Zealand, though Polynesian culture offers many beautiful myths and lore, some with a dark heart. Māori tradition has however delivered more in the way of horror or dark folktale inspired material to the small and large screens. Mataku was a New Zealand television series that ran between 2002 and 2005, that was in format something akin to Tales of the Unexpected or The Twilight Zone was inspired by Māori myth and folklore. Whilst many New Zealand horror films are concerned with the more mainstream (if horror is ever particularly mainstream) fare of vampires, zombies and suchlike, John Laing's
1985 film The Lost Tribe follows the trail of an anthropologist who disappears whilst travelling on a research mission studying a reclusive tribe.
Into the vast expanse of the Australian outback we see landscape and isolation play a big role in some of the films of the land down under. It is noteworthy that the films that will be mentioned here for the most part fall into that 'are they actually horror films?' category. It really depends on how you personally define horror, for it is subjective and folk horror even more so. For the deep feelings of dread that isolation and environment can provoke, these films certainly merit a mention here; the aesthetic and otherworldly qualities tie them in with the broader view of folk horror. Let us begin with Nicholas Roeg's 1971 film Walkabout. Categorised as Austrialian New Wave or alternatively as Ozploitation, Walkabout is loosely based on James Vance Marshall's 1959 novel of the same name. Following a manic violent episode and subsequent suicide of their father, a teenage girl and her younger brother become stranded in the outback. Struggling to survive they are discovered by a young native man (played by the great indigenous actor David Gulpilil), who helps them survive in the wilderness but at a cost to himself. Roeg's considerable skill as a cinematographer makes great use of the vast, barren sun-baked environment of the Outback. The notion that such a place could drive a soul to madness is again brought to the fore in Ted Kotcheff's Wake in Fright, also released in 1971 and initially bearing the title Outback. The film centres on a young teacher John Grant (played by Gary Bond), who en route to Sydney stops off in a blood and spit rural mining town known colloquially as the Yabba. John is aloof to the hard-living residents but, becoming engrossed in a gambling game, loses his money and becomes stranded in the town. The influence of the residents and the outback immerse him and he falls into a spiral of alcohol abuse and identity crisis. Both Walkabout and Wake in Fright raised controversy about scenes depicting the actual hunting and killing of animals. These scenes do make for some uncomfortable viewing but it is worthwhile to read up on their inclusion. Whilst it can be argued that the scenes are not vital to the films, their inclusion does emphasise the brutal aspect of the outback, where survival seems to be a constant, harsh struggle. Nature fights back in Colin Eggleston's strange 1977 movie, Long Weekend. An urbanite couple go for a camping trip in the country but proceed to disrespect the animals and the environment. The natural world then unites to make them pay for their callous and thoughtless behaviour.
A supernatural aspect to the Outback is revealed in Peter Weir's 1975 film Picnic at Hanging Rock (1975). Based on Joan Lindsay's luscious 1967 novel of the same name, the story centres around a group of schoolgirls from Appleyard College attending a Valentine's Day picnic at Hanging Rock, a geological feature out in the bush. Several girls and one of the teachers do not return from the day out. Mystery surrounds their disappearance – did they suffer to an accident? Did they get lost and succumb to the hot, dry conditions? Were they raped and murdered … or did some stranger fate befall them? The location is a major player in the film; Hanging Rock, or Ngannelong (or Anneyelong) to give it its traditional Aboriginal name, is a dead volcano in Victoria. Formerly it was occupied by the Woi Wurrung, Taungurung and Dja Dja Wurrung tribes but were driven from it in colonial times. The old lore of the rock has vanished as mysteriously as the girls and teacher from the film and book (intriguingly Picnic at Hanging Rock created its own myth as to whether the narrative was based upon an actual event). Despite the lack of real Aboriginal presence in Picnic at Hanging Rock, within Weir's dreamlike cinematic direction of Lindsay's hauntingly romantic book a shadow of the Dreamtime is cast by the rock. Weir did however pursue more distinctly indigenous themes in his 1976 film The Last Wave. This film is intriguing as it infuses the whole of Australia, both rural and urban with the Dreaming. The Dreamtime or Dreaming refers to the cosmological / spiritual concept of the Australian Aboriginal people whereby in a time out of time the land is inhabited with supernatural entities. The Dreaming is spoken of sometimes in the concept of 'everywhen' which refers to all times at once. In The Last Wave, it can also be seen as being everywhere or at least everywhere in Australia, as from outback to city strange weather suddenly arises as a lawyer (Richard Chaberlain) begins to feel a psychic connection to a man (David Gulpilil) who is accused, with a group of others, of committing murder. The aspect of everywhere and everywhen is perhaps also subtly suggested by the magnetic anomalies of the watches stopping both in Picnic at Hanging Rock and also in Wolf Creek (2005). Wolf Creek, directed by Greg McClean, is a brutal slice of Australian backwoods horror, that uncompromisingly reminds us that the isolation of the bush and Outback are perfect hunting grounds for serial killers – though whilst the prey may at times be few and far between, once the hunt has begun,both it and the ensuing slaughter can be pursued at grisly leisure. The Kettering Incident television series (2016) also looks at disappearances that is not due to killers on the road abducting victims, but instead is associated to mysterious lights seen in the sky above the mysterious, evocative forests of Tasmania.
Depictions of horror are rich and prevalent in Asian folklore, art and cinema; however, landscape tends not to be as much a factor as in the Chinese wuxia movies like Crouching Tiger, Hidden Dragon (2000) and House of Flying Daggers (2004) for instance. A common feature of Japanese horror (or J-horror), the most internationally successful of all Asian horror films, is that of Yūrei – that is to say ghosts, and especially the Onryō or vengeful ghost. Frequently depicted as pale females with very long black hair, the most famous of which is probably Sadako from the Ringu series, these entities have been seen in Japanese cinema in earlier films such as The Ghost of Yotsuya (1959), The Ghost of Oiwa's Spirit (1961) and 1968's Yabu no naka no Kuroneko (also known simply as Kureneko). Yukki-onna is a similar looking spirit seen in Masaki Kobayashi's 1965 film Kwaidan (meaning Ghost Stories and based on the folk tales transcribed in the 19th century by Lafcadio Hearn). Yukki-onna however is an elemental spirit rather than the tortured soul of a dead girl and is associated to the winter. Featuring in the section of the film entitled The Woman of the Snow, this tale would send a shiver down the spine of the viewer, listener or  reader for that is literally the point of Japanese ghost stories; unlike the spooky tales that are told in the west around Halloween and Christmas, in Japan ghost stories were told in the summer with the intention of causing a chill to ease the heat. Whilst ghosts of the west may be confined to particular locations, it appears from Japanese movies at least that Onryō may travel from place to place, often haunting a particular person rather than locale. Similar entities are known across Asia by a variety of names. A Japanese film that uses the landscape of reed fields to amazing effect is Kaneto Shindo's 1964 masterpiece Onibaba (which translates as Demon Hag). Onibaba relates the situation of two women who live in the rustic area and make a living by killing and robbing soldiers during the 14th century civil war. One day a demon masked man appears in their midst and the relationship between the women takes a darker turn. Fabrice du Welz's 2008 film Vinyan is actually a British-French-Belgian-Australian movie but is set in Southeast Asia after the devastating 2004 tsunami. Searching for their son who was lost in the disaster a western couple find themselves out of their depth in an unfamiliar continent.
The continent of Africa has a rich and diverse bounty of folklore, legend and myth from the Ancient Egyptians in the north to the Zulu nation of the south, and a tremendous and vast, varying landscape, but horror films are only beginning to blossom here and future creations are eagerly anticipated. Thanks goes to Folk Horror Revival colleague, Richard Hing, for alerting me to several unfamiliar diamonds from Africa. Yeleen is a 1987 movie from Mali, directed by Souleymane Cisse, the title of which means 'brightness' in English. Based on a legend known to the Bambara people, it tells of a young man with magical powers who is tracked by his father, who wants to kill him, through the terrain of West Africa. In 2016, Uganda produced Bunjako, directed by Kizito Samuel Saviour, which centres on a group of students who find themselves lost in a haunted forest. Rungano Nyoni's 2017 film, I Am Not A Witch displays how old superstitions and suspicion can still affect a populace in its tale of a young girl who is accused of practising witchcraft. As with America and Australia, the lonely roads and vast expanses of the African continent can give certain dangerous individuals a chance to kill at their leisure should unfortunate victims pass their way. The people of Namibia still shudder at the mention of Nhadiep, a notorious murderer. Nhadiep (born Klaas Pieters) went on the run in the early 1980s leaving several dead bodies in his wake. Successfully eluding the law, he became a legendary figure and was rumoured to possess supernatural powers. Following the fatal shooting of Nhadiep in 1982 by Sergeant Coenraad du Preez, people said that the ghost of Nhadiep still lingered in the Karas mountains and when spoken of, when it is dared even to speak his name, he is referred to as a bogeyman type figure. At least two very different films have been inspired by the case of Nhadiep. David Wicht's Windprints (1989) is a straightforward fact-based drama starring John Hurt and Sean Bean that follows the manhunt through the unforgiving terrain whilst Richard Stanley's Dust Devil (1992) is inspired by the case but takes it in a more supernatural, stylised direction. Both Dust Devil and Miguel Llansó's 2015 movie Crumbs, display the African landscape in a post-apocalyptic / science fiction fantasy fashion rather than showing it in its current age and in respect to the lore of its past, but Crumbs especially, does make good use of the immense and unyielding expanse and topography of the continent.
Let us now head northwards and back into Europe. Whilst Italy is more well known for its Giallo suspense thrillers, a film that displays the old beliefs of rural areas in a dark and dramatic fashion is Il Demonio (Brunello Rondi, 1963). A decade before The Exorcist, Il Demonio narrates the tale of Purif (played by Daliah Lavi) who in exploring the rustic magic practise of malocchio is suspected by the locals and clergy of a Southern Italian mountain village to be not only a witch but possessed by evil spirits. The film portrays the grim actions spawned by the locals' fears As the persecution of Purif endures, it feels like there is no escape for her in this Spaghetti Western like habitat; the village looking as if it had actually sprung forth from the rock of this desolate terrain. Spaghetti Westerns were also incidentally filmed in Spain where we will turn to next.
The Spanish Civil War of 1936 to 1939 casts a shadow over some of Spain's cinematic output and it is the aftermath period of this that provides the setting for Victor Erice's El Espíritu de la Colmena – The Spirit of the Beehive (1973). Despite a subplot involving Boris Karloff's iconic rendition of Frankenstein's Monster, The Spirit of the Beehive is not a horror film but it does have a very earthy yet ethereal quality and an aesthetic that is akin to folk horror. This tale of a child encountering a wounded soldier in a sheep pen in a lonely location surrounded by a beautiful yet haunting landscape, informs the work of director Guillermo del Toro who has expressed admiration for the film. Its influence can perhaps be seen more in El Espinazo del Diablo – The Devil's Backbone (2001) than in his striking fantasy El laberinto del fauno – Pan's Labyrinth (2006), though both of these films also relate to the influence of the civil war. The Devil's Backbone interweaves the tale of a missing boy at a remote orphanage and a subsequent haunting with the political turmoil of the time. J.A. Bayona's 2007 film El Orfanato – The Orphanage also utilises a home for children whose parents have died as the centre of its narrative but is set in contemporary times. Before we head out of the Mediterranean, a mention must go to the absolutely stunning landscape in the 2017 Greek short film Mandelion, directed Achilleas Gatsopoulos, about the nature spirits the Neraides.
Though there are other film genres mixed into Le Pacte des Loupes (Brotherhood of the Wolf) directed by Christophe Gans in 2001, its inspiration by the true-life killings that occurred in the French province of Gévaudan lends to it a folk horror element. Between 1764 and 1767 there were an estimated 210 attacks upon people with perhaps a hundred deaths in the mountainous region. They were attributed to a ferocious beast that some thought to be a wolf or wild dog but that others feared to be a werewolf. Brotherhood of the Wolf adds a theme of intrigue and conspiracy to its stylish depiction of the story.
Fabrice du Welz, mentioned earlier as the director of Vinyan, gives a bizarre and brutal lesson about the dangers of having a vehicle break down in a rural, sylvan town in Belgium in his 2004 backwoods horror Calvaire (The Ordeal). Though it may veer into 'urban wyrd' territory Pieter Van Hees 2008 film Linkeroever (Left Bank) has the curiosity of nature creeping back in to reclaim the Left Bank area of the Belgian city Antwerp and gives the impression through its exterior cinematography ,and the isolation of the protagonist, of transpiring in a more remote place than it actually is.
Filmed mostly in Slovakia, The Czech Republic, Germany and The Netherlands Nosferatu the Vampyre (1979) sees director Werner Herzog again unite with actor Klaus Kinski and the band Popol Vuh who worked together on the afore mentioned Aguirre: The Wrath of God and Fitzcarraldo. This remake of F.W. Murnau's 1922 silent horror Nosferatu, eine Symphonie des Grauens combines some stunning photography (especially making good use of the Tatra Mountains) with atmospheric music to create a dream-like vampiric folktale on screen. Jeder für sich und Gott gegen – The Enigma of Kaspar Hauser; Herzog's 1974 movie based upon the true story of a young German man who was suspected first of being a feral foundling but then became the figure of greater theory and curiosity, is again not a horror film as such but the strange narrative and use of place lend it also to this essay.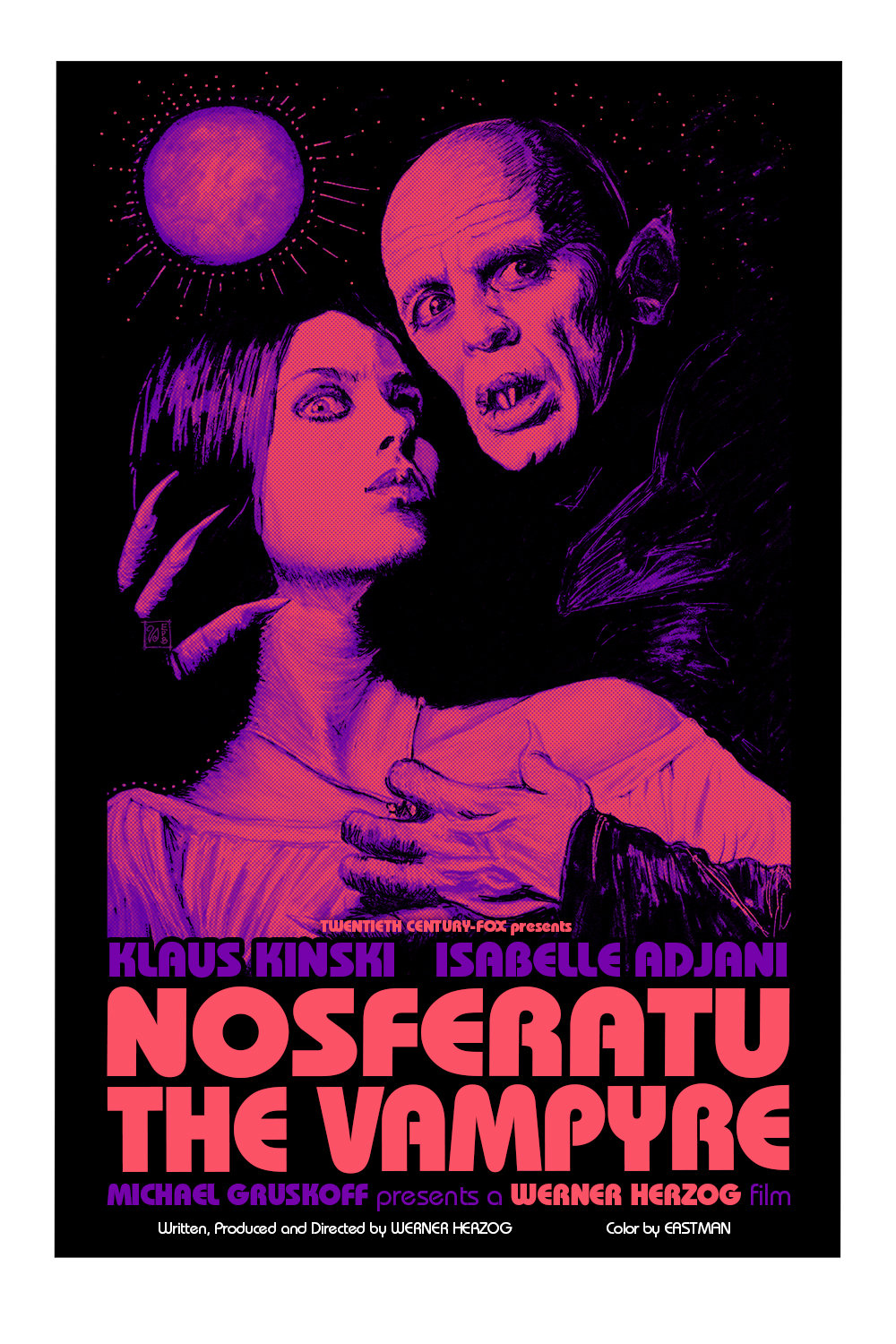 Heading northward button up your coats as we travel into Scandinavia, where there is a good argument that folk horror cinema originated. Häxan (or Heksen) Witchcraft Through the Ages is a 1922 Danish -Swedish co-production written and directed by Benjamin Christensen. It is presented as a docudrama but it is more fantastical than that. It is clear to see that Christensen had fun researching the weird and grisly details gleaned from accused witches' confessions and from folklore and in his dark presentation of these tales, he made Häxan a work of art that is ahead of its time. Originally presented as a silent movie, Häxan has been re-released with various scores and voice-overs including narration by the acclaimed Beat poet and occultist William Burroughs and more recently by, the talented actor and writer of gallows-humour tv shows The League of Gentlemen and Inside No. 9, Reece Shearsmith
There are aesthetic and thematic elements to be found in a number of the films and television shows that have been associated to the crime thriller genre known as Scandinavian Noir. A pair of Swedish television series Ängelby and Jordskott (both premiering in 2015) initially seem like regular detective stories but then unveil an undercurrent of supernatural weirdness. Set in small towns in wooded areas both shows display an earthy folk horror strangeness. In the case of Jordskott association is drawn to the skogsrå – forest spirits of Nordic lore. Norway has also drawn on its rich folklore for a number of movies. Aleksander L. Noraas' 2012 movie Thale also explores the concept of forest spirits. A Thale (or Thallen or Huldra) is a female wood spirit that may have a hollow back but generally, as is the case in the film, the Thale possess cow tails. Noraas' film relates to one of these creatures that was discovered being held in captivity. Whilst Thale is not a bad film, my personal preferences would have seen it produced with less mainstream horror action and instead given it a slower stranger atmosphere. 2010's Trolljegeren – Trollhunter (directed by André Øvredal) pulls off the at-times risky 'found footage' approach very well. Following a film crew making a documentary about a man whose mission in life is to hunt trolls – those lumpy, unpleasant monsters of Norse myth and fairy-tales. This it does with dark humour, interesting character exchange and the use of the wintry landscape is so powerful you can almost feel a chill through the viewing screen. Before we head eastwards, a diversion west to Iceland and Nietzcha Keene's The Juniper Tree. Starring elven singer Bjork, The Juniper Tree tells the tale of two sisters who flee from their home after their mother is executed as a witch. Filmed in black and white, the film displays a desolate beauty and is something of a folk horror hidden gem.
Finally, on our folk horror odyssey we shall again head eastward. Finland has offered some treats to the folk horror viewer; it is home to one of the oddest Yuletide movies ever – Jalmari Helander's 2010 Rare Exports: A Christmas Tale in which wild Santas are captured and traded,but it is another two movies that better illustrate the Finnish landscape. Valkoinen Peura – The White Reindeer (directed by Erik Blomberg in 1952) is an early folk horror classic and again one that deserves to be better known. Taking inspiration from Sami mythology and folklore, The White Reindeer is a strange, spellbinding tale of shamanism, transformation and vampirism.

Antti-Jussi Annila's 2008 film Sauna (also known as Filth and Evil Rising) is set in the aftermath of the 16th century Swedish-Russian war which saw Finland used as a battlefield. Two brothers are given the job of marking the Finnish-Russian border but find themselves in a swamp that is not marked upon the map, and upon discovering a bathhouse in the dank and treacherous terrain, dark forces are stirred. The cinematic use of the location in Sauna is delightfully menacing and eerie. For those wishing to investigate more Finnish horror, Roland af Hällström's 1952 movie Noita Palaa Elämään – The Witch is also worth checking out.
Returning to the snow, Вечера на хуторе близ Диканьки – The night Before Christmas or as it is better known Evenings on a Farm Near Dikanka is a 1961 Soviet film directed by Aleksandr Rou based on a series of short stories by Nikolai Gogol. It is charming yet weird film that sees perhaps the cutest depiction of the devil in screen history. 1967's Вий – Viy, also based on a Gogl tale and directed by Konstantin Yershov and Georgi Kropachyov has a similar aesthetic to Evenings on a Farm Near Dikanka and is a classic of East European folk horror. Viy relates the tale of a young priest holding a three-day vigil over the corpse of a witch. Морозко – Morozko. Father Frost is actually a children's film, at least I think it is. It is rather creepy whether it intends to be or not and it does feature a favourite witch of Folk Horror Revivalists – Baba Yaga. The most disturbing thing about it though for me is the bear mask, worn by the actor whose character is transformed into a bear. All of these 3 films have a particular cultural aesthetic that is enchanting and appealing.
The 1981 Ukranian movie directed by Yuri Ilyenko, Lesnaya Pesnya. Mavka – A Story of the Forest is a dark fairy tale relating to wood nymphs whilstЛептирица – Leptirica – The She-butterfly is a 1973 former Yugoslavian film directed byĐorđe Kadijević based on a story by Serbian writer Milovan Glišić. Dealing with a rustic village that harbours a haunted mill with a vampiric association, Leptirica is influenced by the Slavic folklore that describes how vampires may take the form of butterflies and has been considered to be the first Serbian horror film. Former Czechoslovakia has exported some of the finest international folk horror both in certain movies of the Czech New Wave and in the distinctly creepy animation by master filmmaker Jan Švankmajer, (Alice, Faust and Little Otik are all classic folk horror animations worth seeing). Numerous Czech films have folk horror elements or qualities, but for the purpose of this essay will mention only a handful. Kladivo na carodejnice – Witchhammer
directed by Otakar Vávra in 1970 and based upon the novel by Václav Kaplický returns us to the days of the witch hunts, specifically those of Northern Moravia in the 17th Century. There is quite possibly a political subtext of the times within Witchhammer but taken directly as a historical horror it is a powerful film. Juaj Herz's 1972 film Morgiana about two twisted sisters is in a way a sort of Bohemian Whatever Happened To Baby Jane, but is also a visual delight. The atmospheric coastal scenes were shot on location in Bulgaria. Finally we will end our folk horror world tour with 1970's Valerie a Týden Divů – Valerie and Her Week of Wonders which was directed by Jaromil Jireš and based upon the novel by Vítězslav Nezval. Valerie and her Week of Wonders is a visual delight, surreal and dreamlike. Its narrative at times is not always the easiest to follow, but the basic gist is that the titular Valerie, upon entering womanhood, becomes the focus of lust of numerous characters, men women and even priests and vampires. Filmed around the area of Slavonice, some of the scenes in the film are truly beautiful. Its oneiric atmosphere and aesthetic appealed to both the author Angela Carter and director Neil Jordan and its influence can be seen in their 1984 dark fairy-tale The Company of Wolves. This luscious adaptation of the Red Riding Hood tale with extra sensual elements pertaining to Carter's work in her The Bloody Chamber short story collection has appeal to both the appreciators of gothic horror as well as folk horror, and as sure as apples fall from the orchard tree, it brings us back to Britain where our story today began.