In the autumnal glow of Folklore Thursday's Harvest theme, here are a few Slavic spirits of the grain
Polevik
(Also known as Polewiki. Polevoy. Polovoi.)
The Polevik is a strange spirit of the grain fields. they are usually masculine though some accounts mention females and children of the species. The Polevik is described as a rugged dwarf with dark earthy skin and grass for hair. They are frequently dressed in white and each of their eyes is a different colour. It is sometimes claimed that their feet are cloven like those of goats.
When in a jovial mood, Polevik may amuse themselves by killing wild birds or by causing travellers to become way-led and confused in surroundings which may normally be familiar to them. In their more aggressive moods, which accounts for most tales about them, they are violent, dangerous creatures.
They do not like idlers, and lazy field-workers may be lucky just to receive a hefty kick from a Polevik, for if they chanced upon someone drunk and asleep in the fields they would strangle the person to death. Like the Rye Wolf and the Poludnitsa, tales of the Polevik may be told to children to stop them playing in the cereal fields and risk damaging valuable crops, but legitimate workers may too feel ill at ease working with a Polevik presence looming. Therefore it was hoped that they would be appeased with an offering of two eggs and a cockerel that could no longer crow, placed in a ditch alongside the field. The Polevik were most active at noon and dusk, so it was desirable not to be in the fields at those times.
It is said in Russia that the Polevik shrink to the size of chaff or stubble when the harvest is nearly complete and will hide in the last few stalks and be taken in to the sheds. As it is also claimed that the Polevik causes disease amongst those who displease him, it is possible that he is symbolic of Ergot fruitbodies. Ergot (Claviceps purpurea) is a fungus that infects cereal crops, especially Rye, sometimes with calamatic effect. Whilst its hard dark purple fruitbodies are quite apparent it can still get get into the food supply as it is not noticable when ground and cooked. If ingested by people or animals it can result in poisoning called Ergotism. Rather than kill the toxicity baking the grain may strengthen the effects.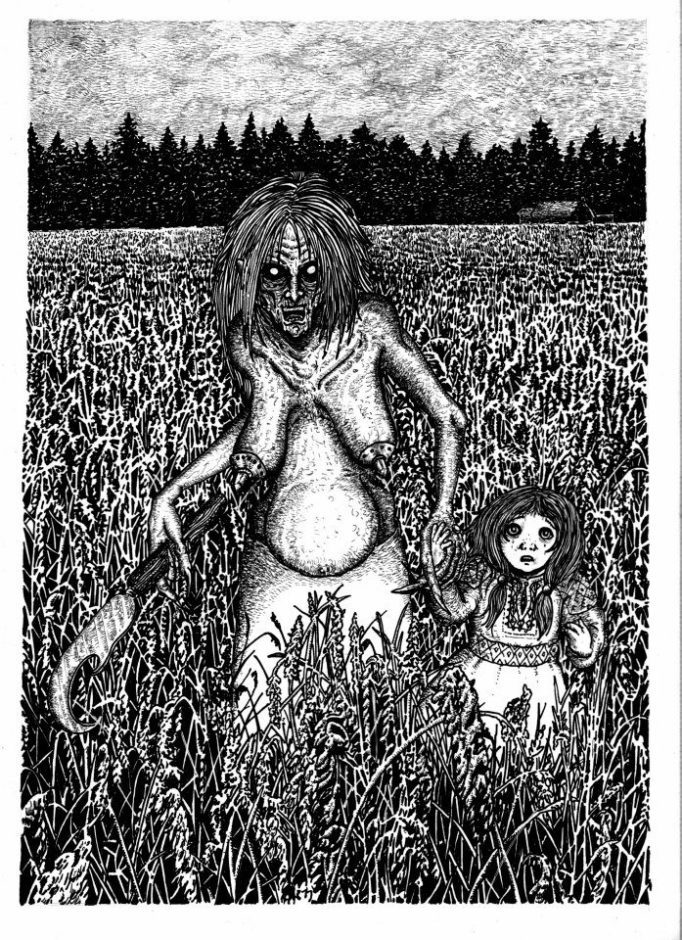 Rye Mother
(Also known as Rye Grandmother. Rugia Boba. Zalizna Baba. Rzhana Baba. Zhytnia. Zalizna Zhinka – The Iron Woman.)
​
The concept of a Corn Mother was prevalent in the faiths of many cultures across the world. She may have often had a dark side relating to her association with the natural cycle of life, death and rebirth, yet in Slavic and also Germanic lore her sinister side is most prevalent.
Manifesting as a sinister old crone, she hunts for children with her iron hook, and once captured she will take them to suckle upon her iron breasts, yet it is not white wholesome milk that the children will drink but black poison that will sicken, madden and perhaps kill them. In this dark aspect she is not the personification of the nourishing grain but perhaps the embodiment of the toxic fungi, Ergot (see also Polevik).
Whilst the causes of Ergotism or Holy Fire were only officially recognised by science in the 16th Century, it can be assumed that peasants whose lives depended on the land would have known the cause and effect of the dark smut growing on their crops, if only by the resulting condition of the consequences of their livestock having eaten infected grain. Superstition may have also developed blindly around Ergotism as when cooked in human bread it is not visibly discernible. Obviously good grain would be used in favour of bad, but in hard times it may be a choice of either starvation or eat infected crops – damned if you do, damned if you don't. Alas in bad weather when yields may be low already, the climatic conditions are also better for Ergot to grow. In the Little Ice Ages (1150-1460 AD and 1560-1850 AD) ergotism outbreaks were prevalent across Europe. In Russia in 1926-27, approximately ten thousand people were reported with Ergot poisoning
Also in harsh times wolves may be more inclined to move closer to human habitation, if coupled with the hallucinatory effects of the Ergot, then it is possible to see how tales of werewolves may have evolved, it is noteworthy that Rye also has a supernatural association with wolves and in some regions the Rye Mother would be accompanied by a wolf. Ergotism outbreaks have been debatably associated with the Witchcraft panics in various countries, though the 'Burning Times' never really descended upon the Slav countries, though witches were certainly not unknown there. Ergot may be associated to the Witch-like figure of the Rye Mother by a number of factors. The word Baba means both the last sheaf of crop and witch. Her hard dark poisonous nipples may be indicative of Ergot fruitbodies and ergotism can be transferred to a child if the mother's milk is infected. Also the decrepit Rye Mother may be seen as a failure of fertility, both in the crop and in people, as Ergotism can also cause infertility and can cause abortions of foetuses, indeed it was used deliberately in folk and traditional medicine for this purpose.
Poludnica
(Also known as Polednica. Pryzpotudica. Psezpolnica. Polednice. Poludnitsa. Pudnitsa. Pscipolnitsa. Potundiowka.)
Known across the Slavic countries and neighbouring territories from Siberia to Moravia, the Poludnica is the Midday Spirit or Lady Midday that brought terror to the people. Because of her strong affinity to the fields and the assertation that in some regions she manifests as an ugly old hag, there may be association between the Poludnica and the Rye Mother; however she is also reported to assume the form of an adolescent girl with a whip whose lash will lead to a short life. More frequently she will appear as a tall, beautiful woman dressed in a white cloak or gown brandishing a scythe, sickle or shears. Her beauty however may only be skin deep as there is a cruel streak to her nature, yet ironically her presence is in some regions deemed healthy to the vitality of the crops.
The Poludnica deems that noon time is sacred to her to wander the fields and should she venture upon a man whom is not taking rest at midday, she will pull their hair and tickle or twist their necks, if they do not desist working there and then and return home she may continue tickling them until they die or strike them down with madness. For this reason she is considered the embodiment of sunstroke.
Yet in some regions there are other bizarre and sinister tales told of the Poludnica. If the weather were stormy she would sometimes suddenly appear in the peasants' cottages; the uncomfortable inhabitants would have to sit out the storm on their very best behaviour lest they offend their strange, uninvited guest.
She may also appear in a sudden gust of wind or dust storm and kill anyone in her path, or approach people and ask them questions or riddles and if their answer is not to her liking she would inflict them with illness, misfortune or insanity.
At other times she would either lure children to become lost in the grain fields or kidnap ones who have been left unattended at harvesting time. She would sometimes also kidnap women in childbirth and keep them captive for a year, or assault women and children who were not at home at noon. In parts of Poland she was said to hunt down the children and women with a pack of seven large black dogs. She was often utilised in the words of parents to stop their children wandering in lonely places or strong sunshine, to keep them away from valuable crops and if they were generally being naughty – "Behave or the Poludnitsa will get you!"
from Black Earth: A Field Guide to the Slavic Otherworld by Andrew L. Paciorek
Available to purchase from – https://www.blurb.co.uk/user/andypaciorek