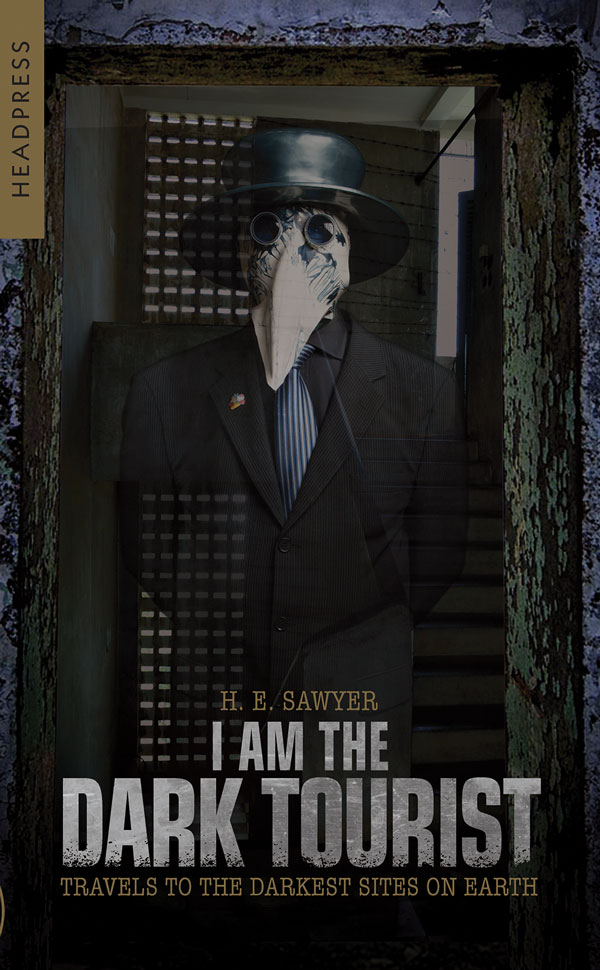 This book really makes you think, at least it made me think.
Following on from my recent reading of Peter Laws' The Frighteners (review here) where in wider terms questions and considerations are made regarding as to why some individuals are drawn towards macabre subjects; H.E. Sawyer takes this enigma into a more specific territory – not that of fiction but in the physical visitation of real life sites of tragedy and trauma.

H.E. Sawyer is a Dark Tourist, his time and money is spent upon excursions to places such as Hiroshima, New York's 9/11 Ground Zero, The Killing Fields of Cambodia, the Chernobyl / Pripyat atomgrad (see also) and even deep sea diving to explore shipwrecks that lie among the fishes on the ocean floor. Within his book and visits – he questions what it means to be a Dark Tourist and the motivations and morals of such a pursuit. To some people Dark Tourists may seem like glorified ambulance chasers – sick ghouls seeking pleasure from the pain of others – Some probably are and some are perhaps shameful in actions of naïveté, as pointed out by Sawyer in his observations upon people taking less than respectful selfies at Auschwitz and other areas of mass death, but humankind is a complex race and the aspect of Dark Tourism is multi-layered and diverse in its individual motivations.

Some people maybe think it is wrong to visit such sites, that it is disrespectful to the dead and their families, but could it be a case that they just feel uncomfortable themselves at facing death and would rather not dwell on such thoughts and such places? Perhaps in some cases, but not all as individuals have different motives, intentions and expectations and Dark Tourism is a complicated business. 'Business' being an operative word – places like Auschwitz and the World Trade Centre memorial facilities want you to visit and want you to even buy mementos. Their motivations however are not simply dark capitalism as they want to educate people about what happened, they want people to remember and not forget and like the Hiroshima and Nagasaki rememberance centres to influence people to strive for a more peaceful world.

Like it or not, as a species humankind does have a death obsession – watch a day's TV and see how much threat to and loss of life is covered in the news bulletins and how many lives are lost in the fiction of films and TV shows. Death is an everpresent fact of life and Dark Tourism is an aspect of that. It is not unnatural for people to be fascinated by large traumatic events that have left a mark on our collective psyche and history. Some places where tragedy has struck encourage people to come visit but others such as the Aokighara 'suicide forest' in Japan want tourism but promote the great natural beauty of the place as the lure rather than the fact that it has gained notoriety as a place where many people have chosen to end their own lives. Aberfan in Wales, the small mining village that in 1966 found greater prominence on the map when a pit spoil collapsed causing a flood of slurry and stone to cascade into dwellings below; most notably the local primary school, is also a matter of great consideration. The disaster claimed 144 lives; 116 of them children. Though half a century has passed, the grief is still very intense and the village seeks privacy to mourn. With other sites particularly the ones that seek visitors, the feelings of the victims' families may be mixed; but places such as Aberfan cause Sawyer to question whether he is right and whether he has any right to visit places where the mourning is more insular.

Motivation and action are key factors in the consideration of Dark Tourism both for the individual traveller and to those looking upon them and forming their own views on the practice. Why are you going? What will you do there? What will you do upon your return? With Aberfan, Sawyer reveals that upon hearing the breaking news of the tragedy as a child, it alerted him to the fact that death may not be far away from anyone and that children are by no means immune. That moment stuck with him and though he knew nobody personally affected by the disaster it may be said that he feels a connection to the tragedy. Whilst there he mostly kept his head down, visiting the place of rest and laying flowers upon the grave of one child but in the heart intended for all. He spent time at the local library there, learning about the disaster – its cause and effect and how it was reported to the wider world. It seems that Sawyer educating himself not only about Aberfan but about all the sites, is not simply for the book – though the knowledge he shares about each location is extremely fascinating and captivating – but because he seems to feel it is right to know and understand the place, the devastating event and the people both alive and dead that it affected as best as he possibly can. He is not simply there to take selfies.

From his travels he has brought back a book – a very good book, that informs about these locations and the tragedies that befell them but also that openly questions his own motivations and his own life-experiences that may have inspired him to specifically seek out and visit sites of tremendous sorrow and death. In reading this book, it may cause others , like it did me, to question themselves as to how they really feel about such matters as Dark Tourism and if they too perhaps share a saturnine, even morbid interests, then why this may be.

But Sawyer is also honest and witty enough to to share his opinion of the cafes and facilities (including the toilet facilities) and his interest in purchasing souvenirs from the sites that sell them. He is a tourist after all – He is the dark tourist.
Product details
Publisher : Headpress
Language: : English
Paperback : 292 pages
ISBN-10 : 1909394580
ISBN-13 : 978-1909394582
Reviewed by Andy Paciorek