Want to avoid Mrs Brown's Boys, The Queen's Speech and whatever else TV throws at us this Christmastide? Of course there's the great Ghost Stories for Christmas drama series and re-watching childhood favourites such as The Box of Delights but here we take the snow shovel and dig up some other possible additions for your alternative winter watching on the cold dark nights …

The White Reindeer (1952)
Original title – Valkoinen Peura. Directed by Erik Blomberg, this Finn classic concerns itself with a newlywed woman Pirita (played by Mirjami Kuosmanen) who visits a local Sami Shaman for help in spicing up her love-life. The spell cast indeed turns the woman not only into a seductress – but into a true femme-fatale as she now has a vampiric hunger. The White Reindeer's star has shone brighter again in the advent of the folk horror revival yet this beautiful dark tale deserves to be seen more widely still.
The Curse of the Cat People (1944)
Directed by Robert Wise and Gunther von Fritsch, The Curse of the Cat People is a sequel to 1942's Cat People, though it can be watched in isolation as the film differs quite differently from its predecessor (which is certainly well worth a watch also). Less of a 'horror' than its antecedent, Curse centres on Amy (Ann Carter) the 6 year old daughter of Ollie Reed (Kent Smith). Amy is a dreamy child who finds herself different and therefore somewhat alienated by her peers. In her solitude she finds an 'imaginary friend' who just happens to be the late first wife of her strict and rather arrogant father. In addition to Irena (Simone Simon) – the ghost or daydream first wife and cat person (although cats do not feature in this film), Amy also befriends an old woman – a reclusive former actress with dementia, much to the envy and upset of the woman's own daughter.
Морозко (Father Frost / Jack Frost) (1964)
Directed by Aleksandr Rou, Morozko or Father Frost is based on Russian folk and fairy tales and follows the trope of a young girl, Nastenka (Natalya Sedykh) who on the cusp of coming of age is ill-treated by a mean and jealous stepmother. Meeting a potential suitor Ivan (Eduard Izotov) doesn't exactly bode well when a spell turns Ivan's head into that of a bear. (Looking like a surreal, mangy version of Bungle from British kid's show Rainbow is one of the reasons this children's film ends up on a darker film list as it is potential nightmare fuel for some). Folkloric figures such as Morozko – a Russian winter spirit who has traits of both Father Christmas and Jack Frost and witchy favourite Baba Yaga also serve to make this film a weird watch.
Wind Chill (2007)
Directed by Gregory Jacobs. When a university student accepts a car share lift at the start of the Christmas holidays she soon realises that the driver is not exactly whom he claims to be, yet as they are driven off the road in a remote area in sub-zero conditions there is more still to worry about as both the present and the past threaten to claim their lives.
Kwaidan (1965)
Directed by Masaki Kobayashi and based upon Japanese ghost stories and folk-tales collected and translated by the folklorist Lafcadio Hearn is a classic of Japanese cinema. Though the whole portmanteau film is a visual delight, it is the Yuki-Onna tale that most concerns us here today. In this segment two men are caught out in a winter blizzard and seek refuge in a fisherman's hut. During the night, their shelter is violated by a beautiful yet deadly woman of the snow. One man loses his life but their supernatural assailant takes pity on the other due to his youth and good looks. She warns him never to speak of what happened that night, but his life remains haunted by the strange encounter.
The Fearless Vampire Killers (1967)
Also known as Dance of the Vampires and Pardon Me, But Your Teeth are in My Neck is directed and co-written by and stars Roman Polanski. Polanski is understandably and justifiably a difficult figure due to the crimes he has committed in his off screen life. Whether to divorce art from artist or to bypass the work of contentious or criminal figures is a personal choice, but within the realm of film it is a case that the output is a communal effort of many members of crew and cast. And together they have produced a strange addition to the many Vampire films out there. Set in the dead of winter, this comedy -horror film has the look and feel of Slavic fairy-tale cinema and has a great soundtrack by Krystof Komeda. It is notable also for starring Sharon Tate – the former wife of Polanski and tragic victim of the Manson Family Murders.


Troll Hunter / Trolljegeren (2010)
Directed by André Øvredal, the Norwegian found-footage / mockumentary telling the tale of a young film crew investigating a man (Otto Jespersen) whose occupation is that of a Troll Hunter sounds like it could be a disaster but it is actually well worth giving a chance to. It is a fun atmospheric jaunt into an aspect of horror folklore that is generally less widely explored in cinema than other monsters. And in the final segment you can almost feel the cold.

Ravenous (1999)
Directed by Antonia Bird and set in the Sierra Nevada in the 19th Century, we witness both the hard conditions of weather and war that may set a person on a desperate path but also we see the unfolding of a supernatural curse. Seeking inspiration from such tragic real historical events such as the Donner Party migration and the folklore of first nations people, Ravenous shows us what happens when people become afflicted with the curse of Wendigo-possession.
November (2017)
Though November may technically be regarded as autumn, this Estonian film is cold and dark enough to make our winter watch-list. Directed by Rainer Sarnet, November tells the tale of a 19th Century Estonian village that is beset by spirits of pestilence. In a bid to survive the harsh conditions, villagers turn to theft involving nefarious and esoteric means but it becomes an obsession outweighing their needs and no good can come of that. November boasts some especially stunning cinematography.
The Lodge (2019)
Directed by Veronika Franz and Severin Fiala and produced by the revived Hammer studios, The Lodge in keeping with Hammer's revival has no resembelance to their campy gothic output of the 1950s, 60s and 70s but is instead as dark and chilling as its intense wintery setting. Following the suicide of their mother, a pair of children accompany their father and his new lover, Grace, to a remote lodge for a Christmas holiday. Whilst their father is called back to the city by work commitments, the children, who resent Grace, discover that she was the sole survivor of a death cult. As strange events occur within the isolated chalet, their survial, mortality and existence come into grievous question.
Evenings on A Farm Near Dikanka / Вечера на хуторе близ Диканьки (1961)
Based on the story ' The Night Before Christmas' by Nikolai Gogol ; Evenings is directed by Aleksandr Rou and shares the same visual and atmospheric strangeness of his later more well known film Morozko. Amid the seasonal revelry in a snowy Ukrainian village a blacksmith Vakula, (Yuri Tavrov) seeks the aid of the devil to transport him to St. Petersburg in Russia so that he may obtain a pair of slippers belonging to the Empress, in a bid to woo a local maiden Oksana (Lyudmyla Myznikova).
Black Robe (1991)
Directed by Bruce Beresford and though not a horror film as such the aesthetic, setting and grim events portrayed in this Canadian film should likely appeal to many fans of folk horror. In it we journey with a Jesuit priest Father LaForgue (Lothaire Bluteau) and his mostly Algonquin travel party across the wilderness of New France in winter as he intends to establish a new Christian mission in a far-off village. In addition to the terrain and hard weather, prophetic dreams, old faith and hostile strangers mar their way.
Winter's Bone (2010)
Again not a horror film, Debra Granik's Winter's Bone will nonetheless appeal to some fans of the Backwoods and Midwestern Gothic sub-genres. A 17 year old girl. Ree (Jennifer Lawrence) is struggling in impoverished circumstances to look after her troubled mother and her brother and sister in the absence of their father imprisoned for the production of meth amphetamine. Survival is paramount to Ree who strives to teach her siblings how to live off the land but more troubles still fall upon the family due to the missing patriarch's involvement in the meth trade.
Let The Right One In / Låt den rätte komma in (2008)
Adapted from John Ajvide Lindqvist's novel, Tomas Alfredson's movie is a beautiful piece of cinema. When a strange young gir Eli ( Lina Leandersson) moves into a Stockholm apartment complex in the early 1980s, she strikes up a friendship with a 12 year old boy Oskar (Kåre Hedebrant) who is something of an outsider himself and a target of school bullies. However there is a lot more to Eli than meets the eye as we discover in this atmospheric slow-burning tale.
The Blackcoat's Daughter / February (2015)
Directed by Osgood Perkins, The Blackcoat's Daughter centres around a Catholic girls' boarding school in upstate New York. Whilst most of the pupils have headed home for the winter vacation, Kat (Kiernan Shipka) and Rose (Lucy Boynton) find themselves left behind and despite their difference in school age and personality types, they find their lives fatefully entwined and to that of a young woman called Joan (Emma Roberts) who escapes from an insane asylum some years after the girls' stories unfold.
Ginger Snaps Back: The Beginning (2004)
The third of the Ginger Snaps franchise (this time directed by Grant Harvey) differs from the coming of age contemporary-times werewolf tale of the first two of the film series by taking the story back further to the early 19th Century but again starring Katherine Isabelle and Emily Perkins as sisters Ginger and Brigitte. This tale of lycanthropy follows an ill-fated winter trading excursion to the Hudson Bay, whereupon the girls find their way to an abandoned camp and then to a fort, where they find shelter but only the start of their troubles.


Black Christmas (1974)
Directed by Bob Clark and also known in the USA as Silent Night – Evil Night has less connection to folk horror than others mentioned here but arguably could fall under our remit as urban wyrd (but who really cares about labels unless they are attached to Christmas presents?) Included because not only is Black Christmas one of the best Christmas slasher horror films, it is quite possibly one of the best Christmas films and Slasher films too. Simple and straightforward yet eerie and rather tense in its execution it tells the story of college girls in a shared accommodation that during the festive season are gifted first with dirty phone-calls and then with a more deadly Christmas presence.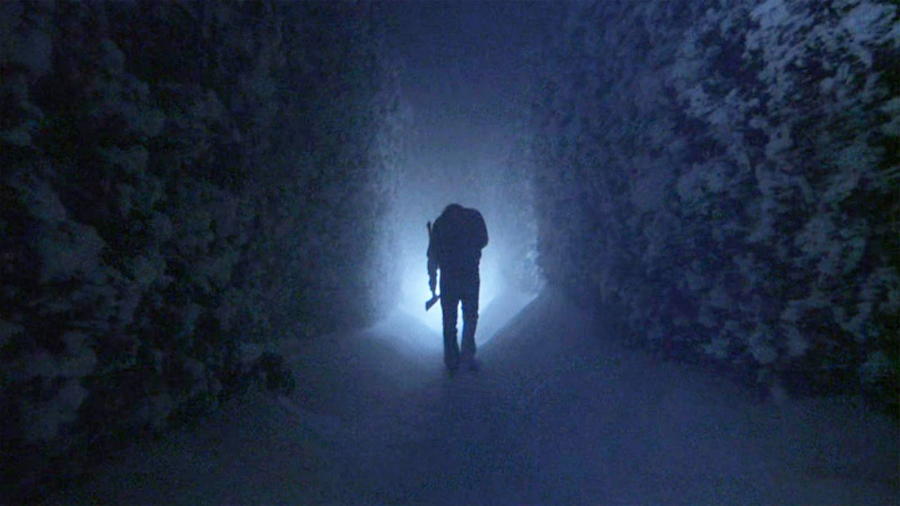 The Shining (1980)
Stanley Kubrick's The Shining, adapted from Stephen King's novel of the same name, needs little introduction – both a classic of winter horror and urban wyrd, this story of Jack Torrence (Jack Nicholson) a caretaker and aspiring author succumbing to cabin fever and / or possession whilst holed up in a remote Colorado Rockies hotel over the heavy winter with his wife Wendy (Shelly Duvall) and psychically gifted (or cursed) young son Danny (Danny Lloyd) has a habit of getting under the skin. In it we bear brutal witness to how Jack's own buried alcohol-induced violence resurfaces towards his family but how also how violence is embedded into the very foundations and sinuous recurring history of the building itself.
Selection chosen by Andy Paciorek