'Frolic in Brine: Goblins Be Thine.'
The 1964 movie Kwaidan (Ghost Stories), directed by Masaki Kobayashi, as well as being a beautiful and atmospheric piece of cinema, is curious in the sense that it is a Japanese movie based on an English book of short stories translating Japanese folk tales. The translator of these tales was Lafcadio Hearn, a man of travel and words.
Born of Irish and Greek parentage in the Ionian Islands in 1850, Hearn grew up in Ireland under the care of his great-aunt following the tumultuous breakup of his parent's marriage. The re-stationing of his surgeon-major father to Suez (where he died of malaria) and the internment of his mother in an insane asylum in Corfu meant that young Lafcadio never really knew his parents. His great-aunt, however, was intent that the child should have good schooling and also learning from an interesting life. So time was spent between her Irish home and another residence in Wales. His great-aunt was a devout Catholic and keen that Lafcadio's education led him on a theological path, yet tales of mythology inspired the boy more than the Bible. He was enrolled at a Catholic state school in France and then at the Catholic College at Ushaw in County Durham, England. It was there that Hearn suffered an eye injury in a sporting accident. Partially blinded and mildly disfigured, Hearn became very self-conscious of his eye and preferred to be photographed in profile so that it could not be seen.
Via London, Hearn moved to the USA and became a journalist in Cincinatti, concentrating mainly on murder reports but also whenever possible outlining the plight of the poor. In 1874 Hearn married Alethea Foley, a young woman of African-American descent. This was not only contrary to much of the racial attitudes commonly held at the time but also shamefully illegal at the time. So the marriage was cited as the reason for his dismissal from the newspaper, but it has been suggested that they were irked by Hearn's tone on matters regarding social and religious issues (he had grown estranged from his Catholic education). He did find work with another press, but his marriage lasted only three years.
Hearn then moved to New Orleans, where he lived and worked as a journalist for several years. It is at this time that his mind turned again to nuances of culture and folklore and as such created several books on Creole culture and cuisine. Following that, he lived in the West Indies, writing a book there about the life of a slave.
In 1890 he moved to Japan, a place that more than any other sealed his place in literary history. Working there as a teacher, Japan carved a place deep in his heart. He converted to Buddhism, became known locally as Koizumi Yakumo and married Koizumi Setsu, the daughter of a Samurai family, who in turn bore him four children. Furthermore, he wrote numerous books on Japanese culture and folklore, including Glimpses of Unfamiliar Japan (1894), Japanese Fairy Tales (1898), In Ghostly Japan (1899), Shadowings (1900) and, most famously, Kwaidan: Stories and Studies of Strange Things (1903). Lafcadio Hearn died aged 54 of heart failure and was buried in Tokyo in 1904; his legacy lives on, however, with his writings, because through his work old tales of ghostly Japan were brought to the West. Through the media of film, Japanese Horror would continue to weave a strange web.
Notably, the 1964 movie Kwaidan bears the strongest association to Hearn. The movie is divided into four parts: 'The Woman of the Snow' and 'Hoichi the Earless' are both featured in the book Kwaidan: Stories and Strange Things (a beautiful and peculiar collection that diverts from folklore into studies of insects for its final part), but the other cinematic episodes of Kwaidan, 'The Black Hair' and 'In a Cup of Tea' are taken from Hearn's Shadowings and Kottō: Being Japanese Curios, With Sundry Cobwebs (1902), respectively.
'The Woman of the Snow' tells the folk tale of a father and son who take refuge from a wild winter storm only to be visited in the night by Yuki-onna, a beautiful but deadly female personification of winter. In 'Hoichi the Earless', a blind musician is called before a strange court to play ballads of ancient sea battles. It is feared, however, that his audience may be more than they seem, and in order to protect himself from any maleficence they may cast towards him, he is tattooed head to foot with a protective Buddhist sutra. 'The Black Hair' relates the tale of a swordsman who abandons his wife in favour of another but returns home years later to find his first wife forgiving and welcoming of him, or so he thinks. The final tale in the film, 'In a Cup of Tea', is the strange story of a writer who keeps seeing faces in, as the title reveals, a cup of tea.
Kwaidan was not the only movie to share the ghost tales (kaidan) of the Heian, Edo and Meiji periods of Japanese history. Historical horrors of Japan have a visual heritage in the Hell Scrolls of the Heian period (8th to 12th century) and in the more phantasmagorical examples of Ukiyo-e ('pictures of the floating world'), the vibrant woodblock prints and paintings of the 17th to 19th centuries. Ghost stories would feature in illustrated books called kusazoshi ('grass tales'). Masters such as Utagawa Hiroshige, Katsushika Hokusai, Utagawa Kunisada and Tsukioka Yoshitoshi all created works of a spectral narrative, but perhaps the grand master of floating world horror was the visionary artist Utagawa Kuniyoshi, whose oeuvre was as prolific as it was fantastic.
In film, such horrors of the Japanese landscape and imagination were also presented in movies such as Kenzi Mizoguchi's 1954 classic Ugetsu Monogatari (Tales of Moonlight and Rain), based on Ueda Akinari's 1776 book collection of folk tales of the same name, and Kaneto Shindo's Onibaba (1964) and Kuroneko (1968). Onibaba (Demon Hag) is a strange and sinister folk horror tale of two women (one old and the other young) who live in a remote hut during the 14th century civil war and eke out an existence by stealing the possessions of dead and dying soldiers. If it is their own actions that cause the soldier to be in such a state, then so be it. However, the lives of the women are thrown into turmoil when a samurai wearing a hannya (demon mask) appears in a local swamp.
Shindo's later film Yabu no Naka no Kuroneko (A Black Cat in a Bamboo Grove)—often shortened to Kuroneko—is a tale of revenge as two women who are raped and killed by samurai return to claim vengeance. Mizoguchi's and Shindo's movies are beautifully shot as well as being creepily atmospheric historical dramas.
Perhaps lesser known but certainly worthy of a wider audience is Masahiro Sinoda's 1975 Sakura no Mori no Mankai no Shita (Under the Blossoming Cherry Trees). This bizarre movie is based on a short story by Ango Sakaguchi. It is not an ancient folk tale but certainly has the feeling of such, as it is a rural murder ballad of a mountain man who rids himself of numerous wives but becomes besotted and slave to the demands of his eighth wife, who may be even more bloodthirsty than he.
Also popular in this Japanese subgenre of historical folk horror are various cinematic adaptations of Yotsuya Kaidan, a kabuki play written in 1825 by Tsuruya Nanboku IV. Although there are variations on the tale as seen through the eyes of different directors, the basic storyline relates to a young woman, Oiwa, whose husband, Iemon, is coveted by another woman, Oume. Oume sends Oiwa a face cream that is actually a poison, causing her to become disfigured. Horrified by his wife's appearance, the shallow Iemon arranges for his wife to be raped, so that he can claim a divorce on the grounds of her 'unfaithfulness'. The would-be rapist, however, takes pity on her and does not rape her. However, he alerts Oiwa to her facial deformity, of which she has been unaware. In her hysteria Oiwa accidentally kills herself with a sword. The death, therefore, gives Iemon opportunity to marry Oume. But just because Oiwa is dead is no reason to assume that she will let the marriage continue peacefully. Movies based on this tale include Nobuo Nakagawa's 1959 Tôkaidô Yotsuya Kaidan (The Ghost of Yotsuya) and Tai Kato's 1961 Kaidan Oiwa no Borei (Ghost Story of Oiwa's Spirit).
Although eclipsed often by Japan's kaiju eiga ('monster films', a popular science fiction / horror sub-genre that has continued from the 1930s to recent years, many of which feature daikaiju—giant abominations such as Godzilla, Mothra and King Ghidora), demons and ghosts have never wandered too far from Japanese expressions of the imagination. In Japanese mythology and folklore yōkai are entities whose general name comes from the words for 'weird' and 'otherworldly'. There are, however, many strange and wonderful forms of yōkai that range from ghosts of the dead to devils and include such peculiar abominations as the flesh-eating kappas who are turtle-like humanoids that live in lakes and have a hollow basin on the crowns of their heads; tanuki, which are racoon-dogs with colossal testicles; karakasa, which are sentient old parasols; and tengu, which are bird-headed goblin men. Oni are demons that often try to seize the souls of dying people or corrupt them during their lives. They can vary quite considerably in appearance and have been depicted in various forms in manga and anime, the popular Japanese comic books and animations, as well as in Saiyūki, a great television series of the late 1970s based on the 16th-century Chinese novel, A Journey to the West by Wu Cheng'en. Saiyūki is much better known in the West by the name of its main character, Monkey.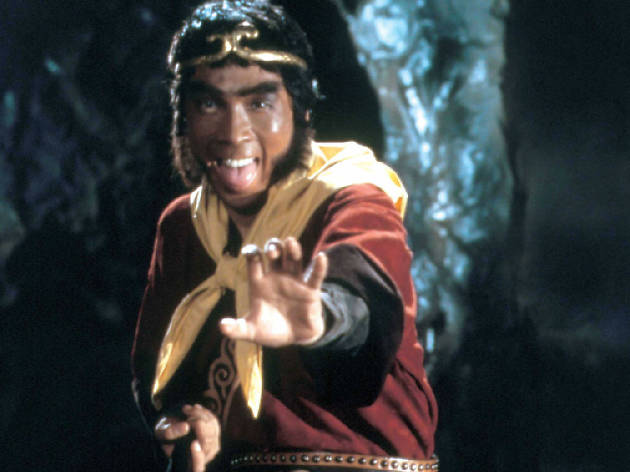 Of all the yōkai, perhaps it is the yurei who have had the longest-lasting influence on Japanese horror both at home and abroad. yurei are the ghosts of people who have died a sudden violent death or in a state of considerable negative emotion such as hatred, sorrow or a lust for revenge or who have been denied proper funerary rites, thus binding them to this world, or at least until the cause of their haunting is properly negated. There are numerous types of yurei, such as zakishi-warashi, which are the mischievous ghosts of children; funayurei, which are the souls of those who died out at sea; and jikininki, which are ghosts that feed on the corpses of the recently deceased. Of all the yurei, it is the onryō, the vengeful ghosts, which are most familiar to fans of horror films—and not only Japanese horror films, as some of the films have been remade by Hollywood.
Onryō walk the Earth to seek retribution for wrongs that were committed to them in life, and in cinema at least their hunger for revenge may be so strong that it is inflicted upon anyone unlucky enough to be in the wrong place at the wrong time, rather than just the person or persons directly responsible for causing them suffering. However, the dynamic of the storytelling is changed from the spirit being a sorrowful victim lashing out in emotional pain from beyond the grave to an indiscriminate monster if being revived for the sake of sequels. There is a tradition of describing onryō as predominantly female, dressed in a white kimono or robe (the colour of the dead), long black hanging hair (in old Japanese tradition, women would wear their pinned up, but it would be loosened following death) and generally floating above the ground or at least having their feet unseen.
Oiwa was an onryō, a particularly recognisable one due to her disfigured eye, as was the wife of the swordsman in 'The Black Hair' and the two women of Kuroneko. Though Yukki-onna fits the physical description of an onryō, the story of her earthly demise is not known though some consider that she is the spirit of one who died in the snow. Other theories place her more as an embodiment of wild winter or possibly a snow goddess.
The cinematic representation of Yuki-onna certainly draws some comparison to the onryō that were to follow. Of these in recent times none have had a greater impact than Sadako Yamamura. Sadako first appeared in Ringu, the first book of Koji Suzuki's Ringu trilogy and in the subsequent 1995 television adaptation and the more famous 1998 cinematic film directed by Hideo Nakata.
Unlike the onryō films of previous generations, Ringu is set in contemporary times and has the subplot of a curse that is spread like a virus with the watching of a mysterious videotape. Following viewing the tape, the victim has seven days to live unless they copy the tape and show it to someone else, thus transferring the curse. It is discovered that the curse originated with the death of a well-known psychic, Shizuko, who committed suicide after a claim that she had faked her powers. It becomes evident that her daughter Sadako has no need for fraudulence and is feared and loathed by her father. However, in seeking a cure for the curse, it is discovered that Sadako vanished whilst still little more than a child.
An excellent creepy character of horror fiction, Sadako (like Count Dracula and Frankenstein's Monster before her) has alas been watered down by numerous sequels, American remakes (Sadako now renamed Samara Morgan—Samara actually being a nice name for its similarity to samsara, a word used in Buddhism and other Eastern religions in reference to the cycles of death and rebirth and sometimes used to indicate earthly suffering, although I don't know whether the similarity is intentional or not) and a large host of other onryō movies to follow in its wake such as Ju-on: the Grudge and Muoi: The Legend of a Portrait. Some of these other onryō films are not bad, but few come close to the cold eeriness of Ringu, which resurrected the Japanese horror film industry for a new generation.
Other films utilising the vengeful ghost theme created not only in Japan but also in other Asian countries such as South Korea and Thailand as well as American remakes of Asian horrors vary in quality. That is not to say onryō films are the only recent examples of a Japanese resurgence in horror, for there are diverse examples of tales of terror that shine brightly from the Land of the Rising Sun. These include the cyberpunk body-horror Tetsuo (Tetsuo: The Iron Man, 1989); Odishon (Audition, 1999), a powerful, unsettling tale of a man seeking a new wife; the pre-Hunger Games story of schoolchildren pitched against each other and forced to become merciless killers, Batoru Rowaiaru (Battle Royale, 2000); the surreal horror Uzamaki (Spiral, 2000); and Imprint (2006), an episode of the television anthology series Masters of Horror in whch a search for a missing young woman turns into a grotesque nightmare. However, it is probably through the modern revisiting of the past folk tale theme of vengeful ghosts explored in Ringu, that horror again was given was given a new lease of life in ghostly Japan.
Essay by Andy Paciorek.
From the book
Folk Horror Revival: Field Studies (second edition)
Available now from – http://www.lulu.com/spotlight/andypaciorek
Sources.
Specters, Ghosts and Sorcerors in Ukiyo-e
Ukiyo-e Ota Memorial Museum of Art 
The Toho Studios Story: A History and Complete Filmography
By Stuart Galbraith IV. Scarecrow Press, 2008
Ghosts and the Japanese: Cultural Experiences in Japanese Death Legends
By Michiko Iwasaka & Barre Toelken. Utah State University Press, 1994
Wandering Ghost: The Odyssey of Lafcadio Hearn
By Jonathan Cott. Kodansha International, 1992
Lafcadio Hearn and the Vision of Japan
by Carl Dawson. Johns Hopkins University Press, 1992
Horror!: 301 Films to See Before a Zombie Sucks Out Your Eyeballs!
By Marriott James & Kim Newman. Carlton Books, 2010